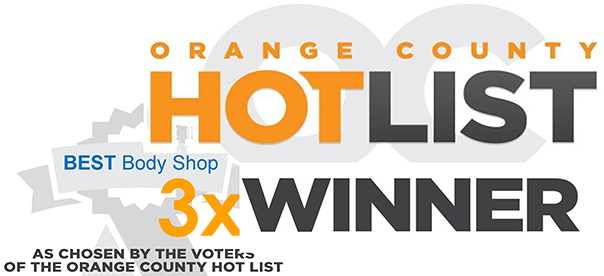 Welcome!
You've come to the right place. We've been voted the best in Orange County three times (in the OC hotlist), because WE CARE about YOU and YOUR VEHICLE. We work for you, not your insurance company.
CALL US FIRST — We'll handle your claim for you and save you time and energy.
Before accepting a settlement, let our 36 years of experience assist you in the claims handling.
Services Available
Towing (we arrange everything for you, just call us and tell us where your car is).
Rental Cars – Available Onsite
Personalized Insurance Claims Handling
Insurance Specialists (we work with all insurance companies)
Alignment
Frame, Alignment & Full Collision Repair
Computerized Paint Color Match
Glass Replacement
Expert Trained & Certified Technicians
15,000 sq. Ft. Facility Gated & Alarmed
Local Shuttle Service
Giving Back & Serving Our Community. Proud Recipients of the National NABC PRIDE Awarded for Humanitarian Acts outside of our industry.
VIP Services Available for Loyal Customers