Our Facility
Secure 15,000 square foot Gated and Alarmed Facility.
State of the Art Down-draft Paint Booth, Prep Station and Mixing Station.
Computerized frame measuring system.
Laser driven alignment machine.
Computerized Color Matching — hand tinting by expert technicians for a precise match.
Frame, Alignment, Computerized Frame Measuring Systems, ProSpot welding and more!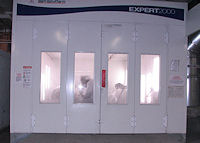 Our Staff
ASE Blue Seal Certification of Excellence
I-CAR Gold Certified
Experienced, Trained Technicians
Insurance Specialists — We work for you with your insurance company to assure a proper repair. Let us negotiate for you to make sure that you get the repair you want.
Call or Visit us first – we will handle everything for you from the rental car arrangements, towing, set up inspections… come in and we'll help you.
Save Time and Money by allowing us to take care of your claim for you.
Three Generations of Family oversee the daily operations. We truly care about you and your vehicle!


Our History
In 1979, a young couple David and Virginia with three young children started a small auto body repair and paint facility together in Brea. Both Dave and Virginia were born and raised in Southern California. Dave loved cars all of his life and was an expert in the industry. Virginia worked from home in the early years to care for the children.
Dave passed away recently. Virginia now works side by side with children and expert staff. Some of the staff has been with her for over 30 years. In 2002, they moved to a 50% larger, beautiful facility in Brea and expanded the business.
Proudly, about 60% to 70% of their customers are repeat customers or referrals from repeat customers. Virginia now has five grandchildren she adores and many wonderful friends. She has had the pleasure of forming friendships with their customers and servicing their customers children and even their grandchildren. She lives her life with charity and giving back in mind.
Brea Auto Body has also purchased, repaired, and gifted vehicles to several charities over the years. In 2005, the family along with their daughter Denise's new husband Fred, were awarded the National Auto Body Council Pride Award for Humanitarian Acts outside of the industry. Virginia and David also are proud recipients of the St. Denis Catholic Community Pastoral Award for Humanitarian Acts and Service to their Community. Their care for their customers and their community is evident in the quality and service they provide. They are grateful for their loyal customers and are active in the Local and National Trade Associations to assure they are current with the latest technologies and training.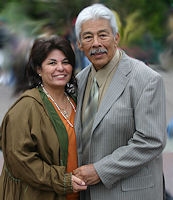 Associations
Automotive Service Councils of California (Chapter 48, North Orange County)
California Autobody Association
Brea Chamber of Commerce
CIC – Collision Industry Conference
We have proudly served on the board of directors of some these organizations
St. Denis Women's Council
Soroptimist International